Home
Sound Isolation Booths

Sound Isolation Booths

Custom Sound Enclosures

Photo Gallery

Customer Comments

FAQ Sound Booths

Miracle Ear Projects /Contractors
Noise Control Products

Acoustic Caulking & Adhesives

Acoustic Fabrics

Acoustic Foams

Baffles

Bass Traps

Ceiling Tiles

Composites

Fabric Covered Panels

Industrial Sound Curtains

Lights

Paintable Acoustic Panels

Pipe/Duct Wrap

Rubber Products

SoundBlocker Vinyl Barrier

Ventilation Systems (pre-built)

Window Noise Reduction Insert

FAQ Noise Control Products

About Us

Contact Us

How to Order

Privacy Policy


Acoustic Fabrics
These fabrics can be used on any of our sound isolation booths, anything other than basic colors will be a special order.
Acoustic fabrics help absorb echo and reverb and some vibrations in certain applications.
Acoustic fabrics do NOT block sound from transmitting through them!
---
GK Sound Isolation Booth Fabrics



Color Choices:
Silver, Black, or Charcoal

Roll Size
54" Wide x 150' Long


$550 a Roll



These are the basic color choices on all GK Sound Booths.
---
Acoustic Wall Fabrics &
Sound Booth Fabrics
"Premier" and "Regal" Series
These fabrics are used on walls to dampen sound and for Isolation enclosures or Acoustic Panels.
Premier Series:


Indigo
Pacific
Monarch
Lava
Charcoal
Steel



Sand
Kelly Green
Merlot
Electric Red
Cinder
Nebula

We also have "White"

Note:
"Sand" is out of stock




Regal Series: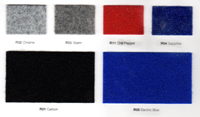 Chrome (light Grey)
Storm (med. Grey)
Chili Pepper Red
Sapphire Blue (dark Blue)
Carbon (Black)
Electric Blue (Bright Blue)


GK Sound Booth Fabrics:
These fabrics are great for sound
dampening & vibration isolation.
Work well on sound isolation booths,
speakers & other acoustic projects.
These fabrics are NOT fire rated.
Premier and Regal Series:

These Fabrics are great for sound dampening and for softening a rooms acoustics in any size of room or building. Great for controlling echo and reverb in hallways, down corridors and inside rooms.

These fabrics are Class A and pass fire test ASTM E-84. Flame Spread 10, Smoke Development 10, Latex backing, 10.5 oz per square yard.

Comes in 63" widths
Roll Size: 50 Linear Yards Long

Velcro Compatible!
Anti-Static, resisting lent, dust and dirt. Cleans easily with general purpose cleaners without streaking, pilling or fading. Soft to the touch.

Other colors may be available on occasion.

Roll Size:
63" wide x 50 Linear Yards long
Price per Roll: $1200 each