Home
Sound Isolation Booths

Sound Isolation Booths

Custom Sound Enclosures

Photo Gallery

Customer Comments

FAQ Sound Booths

Miracle Ear Projects /Contractors
Noise Control Products

Acoustic Caulking & Adhesives

Acoustic Fabrics

Acoustic Foams

Baffles

Bass Traps

Ceiling Tiles

Composites

Fabric Covered Panels

Industrial Sound Curtains

Lights

Paintable Acoustic Panels

Pipe/Duct Wrap

Rubber Products

SoundBlocker Vinyl Barrier

Ventilation Systems (pre-built)

Window Noise Reduction Insert

FAQ Noise Control Products

About Us

Contact Us

How to Order

Privacy Policy


Customer Comments
GK Sound Booths and Custom Sound Enclosures
---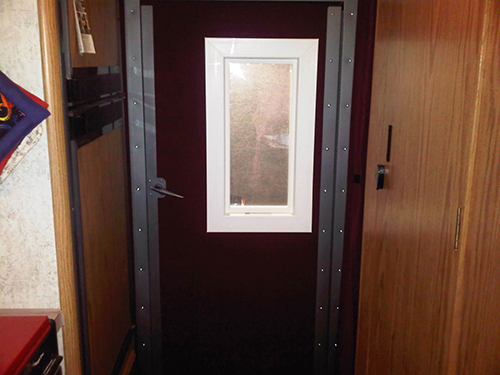 I bought a custom made GretchKen booth about 5 years ago to put in the back bedroom of my motorhome. I had removed the existing bed and moved a few things around to fit in the booth. It was stabilized with rods attached to the walls so that the booth wouldn't move if I unexpectedly had to jam on my brakes when driving. I am thought to be the first voiceover to live, work, and travel fulltime in an RV. I spent months planning my booth size and dimensions, as well as trying to figure out mobile broadband and other possible issues that might arise on the road. I was a wreck when I first hit the road, not knowing if my setup would be quiet enough. I worried about highway noise when staying in parks close to interstates (to be honest, sometimes those places were just too loud, and the quietest booth on the world wouldn't have helped). I worried about the rain (unless it was a hard, driving rain, it didn't usually pose any problems). I worried a lot about my audio, because that's my bread and butter. I sometimes didn't tell clients that I was on the road, because I didn't want them to have preconceived prejudices about my sound. (Sometimes if someone thinks you're from a certain area, they "hear" an accent. I've had people think I was from the south and commented on my southern accent. I'm a New Englander, and, except for living for five years in Arizona, I've spent all of my life in there. No southern accent from this gal!)
My booth exceeded my expectations. I spent 19 months on the road, working fulltime as a voiceover. I narrated dozens of books during that time, voiced many radio and TV commercials, and completed extensive eLearning and recorded textbook projects. I now work out of my home studio in a somewhat larger GretchKen booth and still love the way my audio sounds with it. My motorhome booth has been disassembled and it stored in my basement, possibly awaiting a future travel situation.
---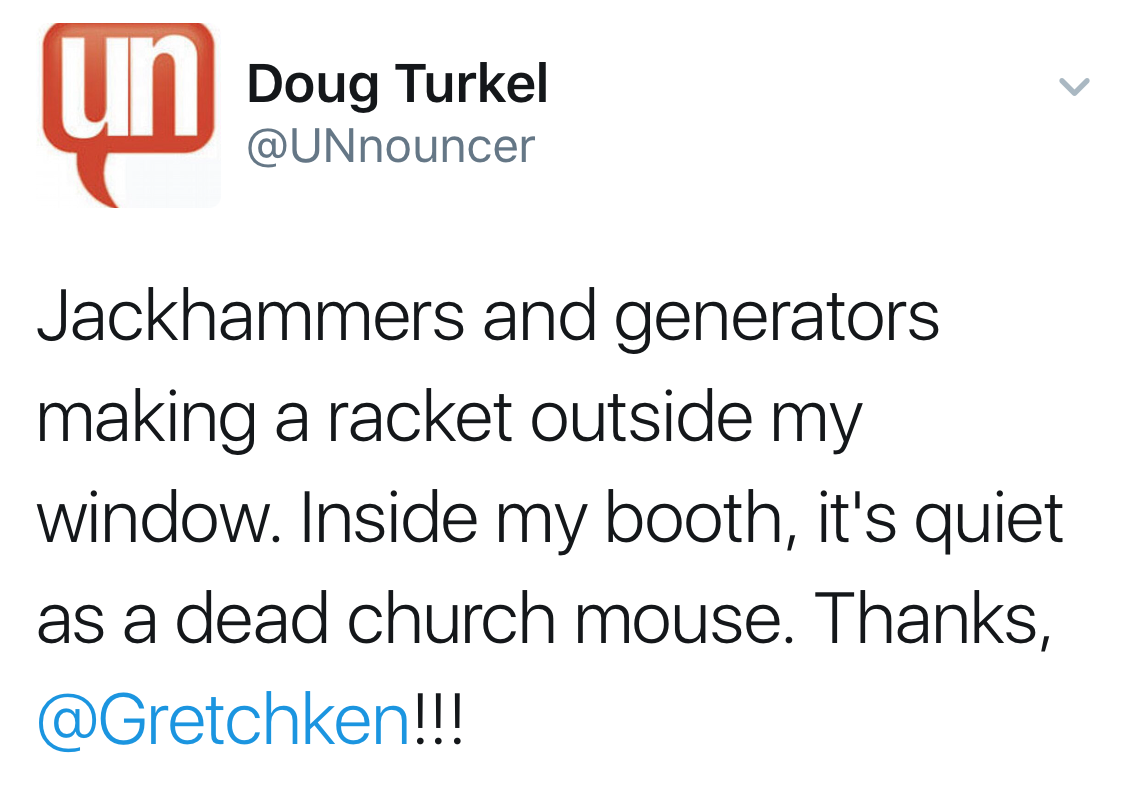 ---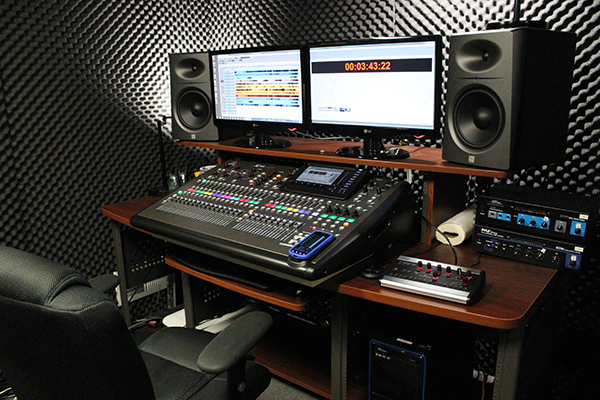 Thank you GretchKen for the opportunity to express our appreciation for your excellent products. In 2009 we purchased your 8'x10' sound enclosure and it has been in service ever since. It was surprisingly easy to put together and install. We had originally planned to build our own small studio. The local zoning and building codes would not allow that studio to be built without updating our entire building to current codes. We found that your "portable" construction enabled us to have the same size facility with no construction because the codes classified the booth as "portable furniture."
Over the last six years our GretchKen studio has lived an exciting life as a voice studio, an audio and video editing facility as Framework Productions [an internet video producer], and currently our control center for "Christmas 1914." This is a fourteen scene Christmas "walk-through" production depicting the lives of 3 war struck families, one German, one British, and one American. The "walk-through" takes seventy minutes to complete. Our cast and support crew numbers 250 individuals – all volunteers. Last year we held 8 performances and over 5,000 people came to see it.
The nerve center for this production is our GretchKen 8x10 sound booth. It gives our systems operators peace, quiet, and central air conditioning, which allows for clear focus on our operation. A single automation system [running all 14 scenes], and complete audio editing capability… all within our booth. A side feature of the booth is the large sound insulated window which allows us to give interested visitors an opportunity to watch our technical operation in action without disturbing the operators.
In the past six years we have not had a door squeak, a noisy lamp, or sign of deterioration of the acoustic foam. We were thrilled at the quality of the studio right off the truck – and we still are. Thanks for such a great product.
Jim Deering
Systems technologist
Framework Productions
King's Baptist Church
Vero Beach, FL

---
"We purchased these rugged custom sound enclosures to protect the operator's hearing from a 120dB alarm that is tested inside the enclosure and help reduce background noise in our factory. Gretchken designed these boxes to fit our safety and reliability needs and we have been very happy with them. That's why we ordered 7 of them!"


Over 30 Years of Electronic Contract Manufacturing

Whitewater, WI.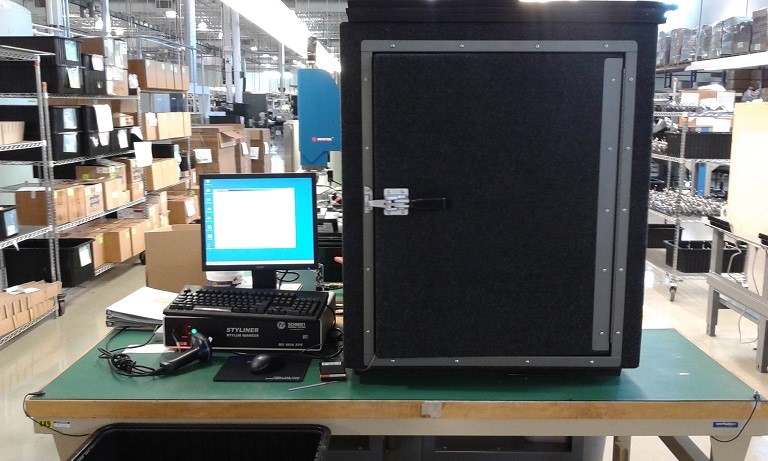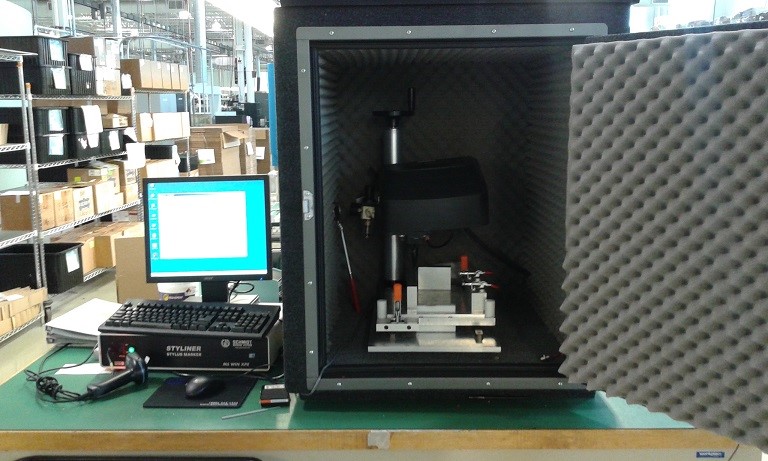 ---

Dear GretchKen,

We took a few quick pictures of the booth - and I've included a fun little time-lapse video of it's construction.
The booth has been invaluable ot us in both our Radio and TV Production! Assembly was incredibly fast and easy, and the quality is fantastic. Thank you!

Steve Carl - Technology Manger
For Badlands Pawn Gold & Jewlery, LLC
Sioux Falls, South Dakota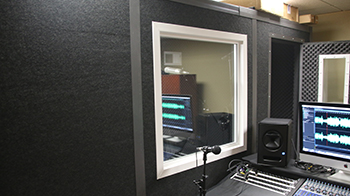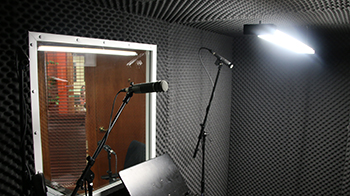 ---
Dustin Ebaugh has been using his GretchKen 4'x6' Professional Double Deluxe Model Sound Booth for over 4 years now, and he was kind enough to send us a video testimonial, please check it out and see what a professional voice actor has to say about our booths.

Dustin Ebaugh is a very well know voice actor based in Las Vegas, Nevada, but body of work stretches the world. Dustin has an impressive portfolio of voice-over work that includes over 500 companies! Companies like Coca-Cola, M-TV, Tiffany & Company, American Red Cross, American Express, Kraft and the list goes on. Dustin's work includes radio, television commercials, voice mail prompts and hold messages, power point presentations, promo work, movie trailers and more. Dustin has a voice like no other, with a wide range talent in tone, cadence, feeling. To learn more about Dustin the voice actor, visit his website at: http://dustinebaugh.com
and s
ee how Dustin can make your business sound more professional, or bring your book to life, or make your product the must have of the century!
Thanks so much for the video testimonial Dustin!
Dustin Ebaugh
E-mail dustin@dustinebaugh.com
Phone: 702-738-DE-VO (3386)
Las Vegas Studio: 702-566-3386
Skype: TVandRadioVoices.com
---
This video was provided by Paul Christy, Voice-Over Artisit in Houston, TX area.br /> We really appreicate this video that Paul Christy Produced.
Paul is a very well known award winning, VO artist for over 25 years across the country.
He is in the Texas Hall of Fame. His carreer includes 30+ audiobooks, HBO, live network television specials, and much more.

To learn more about Paul Christy or to follow him, here are some of his pages:

https://www.facebook.com/paul.christy
https://www.voices.com/people/paulchristy
Enjoy this video of Paul's experience of assembling our
GK Professional Double Deluxe Model Sound Booth.

---
"When we purchased our 8' x 8' studio booth from GretchKen, we expected something great, and we got something amazing. This is by far the best investment I've made in my home (garage) recording studio since we built it. I was originally planning to use it for vocals, but we got the large one just in case, and it's a good thing we did. I record EVERYTHING inside the booth. Vocals, guitars, guitar amplifiers, drums, EVERYTHING. It's perfectly sized, perfectly deadened, and the input jacks have made for flawlessly efficient connections to my studio monitor controls as well as the in-booth headphones. Ultimately, we expected a 10/10, but we got 11/10. I can't recommend this company enough.

Thank you GretchKen. You've taken my home studio to the next level!"

---
I have had a 6x8 standard sound isolation booth from GretchKen for over 5 years.  I have used it regularly and found it to be well made, durable, very functional and perfect for my recording studio for voiceover, music and general audio production.  A real value for the money!   
Dave Taylor Productions
Aspen, Colorado
E-mail: dave@rof.net
---
I've had my soundproof booth for two years now. So keep in mind that I'm writing this in a state that's not "emotional because of something new." I've had it for a while and used it a lot, so it has been put to the test. It WROKS EXCELLENT for my needs.
I was looking for a means to keep sound "in" rather than "out." That is, I wanted to practice my guitar and sing freely without disturbing others. As a result, my musicianship, voice, and over-all performance has improved tremendously--because I can practice for as long as I want WHENEVER I want.
Thanks So Much,
Keith Reuben
Belmont, CA.
650-771-3332
---

"GretchKen provided the best and most cost-effective solution for installing a sound-proof booth inside our laboratory space. We have since had to move it to a new location and the ease with which it could be deconstructed and then rebuilt was only matched by the valuable after-service care GretchKen provided during that time"

John (Professor)
New York University

---
My Booth from GretchKen has been great from day one. Not only does it do what I need it to do sound wise, but even in the Standard Model I have, there's room for a small table which holds my monitor. I couldn't deliever the audio quality I require without this booth! GretchKen also gets an A+ for customer service.
Thanks Gretchen!
Johnothan Hanst Voiceovers
Boomerang Studio Inc.
Boulder, CO.
Jonahtanhanst@gmail.com
www.jonathanhanst.com
www.linkedin/in/jonathanhanst/
---
7' x 7' GK Sound Booth purchased and assembled by first time buyers.
"We are very happy with the construction and the quality of materials. It's obvious you take pride in your work. Thank you very much. You might enjoy watching our "just for fun" time-laps video of the assembly.
Ron Jones
ron.jones@shorelineshools.org
Shoreline School District
Shoreline, WA.

---
Ken, Gretchen and Team,
I have gotten the booth (8'x8' Professional Double Deluxe Model) up and in action. It went together easily in about 2 hours. The details of the unit are well thought out and panels well built. Your services from before the order to when we came to pick up the unit was top notch. I would recommend your product to anyone looking for a sound isolation booth. If I get a chance to specify a unit in any of my projects I will. Thanks again to you and your team.
Gary Golla
Voice Over Artist
Beaverton, Oregon
---
I ordered a custom-sized "GK Professional Sound Isolation Booth" with the "Double Deluxe Upgrade" for in-home voice-over auditions. It's been one of the best purchases I've made in the past 10 years. Despite the small size I ordered, it never sounds like I'm recording in a tiny box thanks to the great materials it's constructed out of. I've seen my career take off now that I'm able to audition from home where I can take my time and really give my best performance. This booth rocks! Thanks, Gretch-Ken!
Ben Diskin
Voice-Over Artist
Los Angeles, CA.
---
"I Love My Booth!!! You guys are the best!"
Scott Matthews Luth
www.mathewsvoice.com
---
Hi Gretchen,
"I record all my voice over work in my studio using the Stone Booth. It's a wonderful solution for someone who wants great sound and professional isolation without having to use a large booth. I prop it right on top of my desk in my office, and it works like a charm. I highly recommend it even for those who don't need to travel."
Tom Glynn
Voice-over artist for Bank of America,
United, Apple, CVS, and many others.
---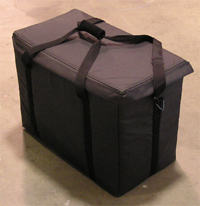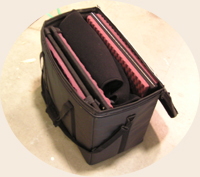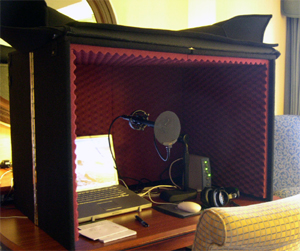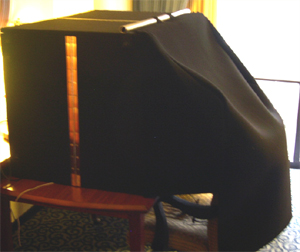 "Who would have thought that I could scribble a few drawings down
on paper, call you guys and have the solution to my mobile voice over recording dilemma! Well it's true! I am a voiceover actor and I work from the road on occasion. The only problem has been making sure my recording environment is quiet enough. I've tried everything from stepping into a closet to holding blankets over my head.
No More! The "StoneBooth In A Bag" rocks!
It effectively cuts out room noise and reflection, giving me a quiet sound controlled area to record in. It's perfect size fits on a desk and packs up in 5 minutes!
Here are pictures to show you it in use recently in a New York City hotel room! I'm the envy of my peers, and they'll be calling you soon!

Thanks again!
Steve Stone
Thanks Steve! We proudly offer your booth design for sale to others.
We call it "StoneBooth in a Bag".
---
I absolutely love my sound isolation booth and it's exactly what I planed for!
Thank you all so very much---you were all so very helpful and courteous!
To Vicki, for the countless phone conversations and emails. To Ken, for the
wonderful custom work and design. And to Gretchen, for making the final
transaction from one coast to another smooth and complete.
I will recommend GretchKen to everyone I know!
Sincerely,
April Christine
Chapel~Studios
New Jersey
---
We do all the audio production for Universal Studios Hollywood right here on the lot,
and we depend heavily on our isolation booth from Gretch-Ken. It's comfortable,
well-made and quiet. We even record our phone messages in it.
If you call Universal Studios for park information, you are listening to a Gretch-Ken booth!
Hope that helps!
Drew Campbell
Technical Creative Manager
---
The booth is everything I had hoped and has created a really sane space in the vortex of NY.
Assembly was 'as advertised' -- took a couple of hours with a friend, no problem. I'd say it's
one of the best investments I've made and I'm really glad you are pushing to envelope with
this kind of home technology. As a lifelong renter, I'm sure I speak for my neighbors too!
Excellent work about which I've told a number of musician friends.
Best Regards,
Blake Schwarzenbach
Brooklyn, NY
---
The sound booth with faraday cage that I bought from you all last year is working great for me.
It took a small team to assemble it, but we got it together and it's working out fine.
I'd be happy to have potential customers contact me, particularly researchers.
Again, I am a psychologist who is using the booth for research purposes.
Stewart Shankman, PH. D.
University of Illinois at Chicago
---
Just had to let you know that the AudioGirls couldn't be happier with our sound booth.
It does exactly what we needed it to and was relatively easy to assemble. Bravo to Gretchen and the Gretch-Ken crew for their exceptional product and customer support!
Lori Rae Martin and Sylvia Aimerito
AudioGirl Productions "Devastatingly Effective Audio"
Long Beach, CA.
www.audiogirlproductions.com
---
Attached are digital pictures of the two isolation booths that we purchased in early July 2003. I have no idea where to even begin telling you how pleased and happy we are with these booths. To begin with, assembly was a dream; we had both booths uncrated and set up within about 2 hours. The following day the sprinkler company installed the required-by-code flexible sprinkler drops into each of the booths, and thankfully no increase in outside sound was noted. The following day we moved our custom built mixing stations up to the booths, installed 13" LCD screens (to view the karaoke lyrics) and studio condenser microphones and headphones, and gave everything a test run. WOW! The quality of the vocals inside the booths was (and is) Amazing! Our customers, who range from first time amateurs to aspiring stars, can't get over the great sounding CD's they get after a recording session.
Thank you all so much for a great quality product!
Sincerely,
Jennifer and Greg Travelstead
The Tune Saloon Karaoke
Recording Studio and Merchants
Fairview Heights, IL.
website: www.tunesaloon.com
e-mail: webmaster@tunesaloon.com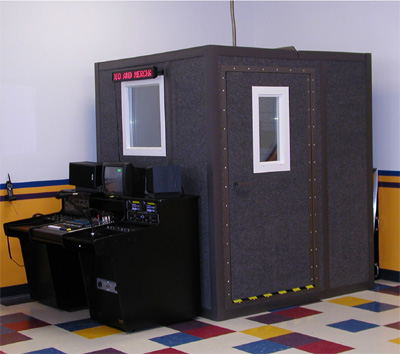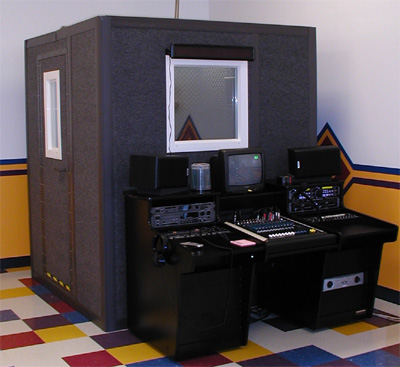 Two 6'x6' Standard Model Sound Isolation booths, with customized 36" door, additional window at a specific height, and custom holes in ceiling for sprinkler system access.
---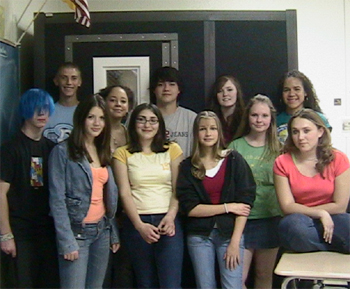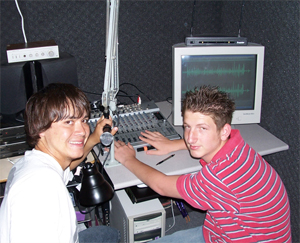 The Audio Video students here at Alamogordo High School put in many hours in our new sound booth. Not only did they assemble the entire booth on their own, but they have recorded and mixed every AHS radio ad including PSA's inside the booth. Thanks to members of our local media, our booth is equipped with a mixing board, microphones, a computer with Adobe Audition (audio editing software) and Frooty Loops (music maker software). The sound booth allows me to teach in the classroom while work continues in the booth - they can't hear me and I can't hear them. The students have recorded PSA's on the importance of reading, reporting date violence, drinking and driving, and others that have been played on local radio stations. Recently, the AV students completed a new DVD presentation for incoming Freshmen that showcases various aspects of our high school.
All voice over work on the DVD was completed in our GretchKen sound booth. I have attached some pictures for you...photos from the assembly of the booth and of the work that goes on continually in it. (It is also wonderful for those overworked teachers who need a power nap or a scream room : ) ) Let me know if you need anything else from us. We are enjoying our booth and it has served us well.
Kathy Wallis A-V Comm Instructor
Alamogordo High School
Alamogordo, NM
---
My space for my home studio is quite limited and I needed an
ISO booth with no room for error on the dimensions.
Well, the booth is fabulous and fits like a glove.
It has all the features I need and needed no tools to assemble
it. Great concept. Gretchen is so accommodating to work with
and easy to talk to, answering all my questions concerning my
custom sized needs. Great folks. Great service. Great product.
Great company. Glad I found you. Thank you!

Cyndi Vicino
Voice Actor
Tampa,Fl.
http://www.thevoiceoverpro.com
---
Gretchen,
We just received shipment of your standard model sound booth.
As a leading developer of educational web delivered content,
audio quality is very important.
The booth proved to be a perfect and economical solution to our problem.
Very impressive stuff!
Josh Braun
Vice President - Internet Development
jbraun@childu.com
www.childu.com
---
I am very happy with the sound booth. It's perfect. The whole process from researching
the website, to ordering, to shipping, to building the booth, to follow up customer
service was flawless. Thanks for your help!
Michelle Sobel
RightField Solutions, VP Production
Chicago, IL.
msobel@rightfield.net
---
I just wanted to let the team know that they did a great job on my booth!!
I use it everyday for my business, professional studio recording, as well as
for my own personal use. Comes together like "Lego's" without even touching
a screwdriver. Amazing! Thanks for a great job and I'm sure I'll be purchasing
more accessories in the future.
David Lovejoy
Lovejoy Productions
Agoura Hills, CA
www.lovejoysgreenroom.com
---
We Love the booth! The engineers were so excited about how much easier
this booth was to put to assemble than any other booths on the market.
We really like how nice and tight everything fits together without
sound leaks of any kinds. We are using our booth to record tag lines in a
convention center and the booth will get a lot of use. Thank you for such a
quality product!
Jeremy Hudson
FamilyNet
Forth Worth, TX
www.familynetradio.com
jhudson@familynetradio.com
---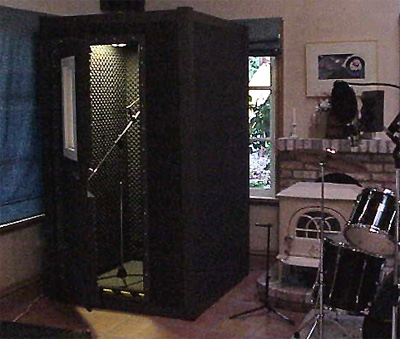 Thanks again for all your help.
Gretch-Ken was exceptionally helpful with our voice booth purchase, and the shipping could not have been quicker.
Chris Price
DJ Dowling
Atherton, CA.
www.djdowling.com
---
Hi Gretchen - I wanted to let you know that I received my isolation booth,
and that it worked great. I am glad that I chose your company to do business with.
Thanks - Kelly
Kelly Rohaly
Seattle, Washington
www.meriphew.com
---
Hi guys!

Thought you might find this photo of interest, currently being shown on the
Haley-Davidson website.

(Takes some browsing to find it. go to:
http://www.harley-davidson.com/en/home.asp?bmLocale=en_US
then click on "View photos from the Open Road Tour". Under "photo Essay",
select Toronto, and then click "next" until the image comes up.
It's roughly 16 frames in.)

As I'm sure you'll recognize, it's the sound isolation booth we bought from you,
which we "re-purposed" into a self-run video recording booth.
Harley's guests enter the booth, close the door, and record a personal story about
their favorite ride, best bike story, etc.
The "stories", recording in high-rez 16:9 DVCAM format, are archived,
and complied into reels, which are then edited/authored into DVDs and displayed
elsewhere in the show.

Booth is holding up nicely, having now traveled from Lorton, VA
(where it was fitted out), to Atlanta, Baltimore, Los Angeles,
and Toronto, and is now on its way to Dallas,
then Mexico City. We're traveling it in one piece,
rather then breaking it down each time.

Love the product - we'll certainly keep you in mind for future installations.

Dan Moalli
Design & Production, Inc.
Lorton, VA
www.d-and-p.com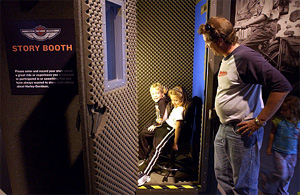 This booth was custom designed
for Harley Davidson's 100th Anniversary Tour,
where Harley riders go into the booth and
record their Harley experiences and road trip stories.
This booth was custom designed with an interior
dividing wall to separate the camera
from the person telling the story.
---
The booth is working wonderful for me. I had several representatives
come to my hearing center and they were very pleased with the results of the booth.
I appreciate all the good customer service that was provided!
I will call you again if I need any more booths.
Don Murphy
Fort Gratiot, MI
www.starkey.com
---
We needed a booth for hearing testing.
Your booth was easy to put together and looks great!
Steve Frost
www.esci.net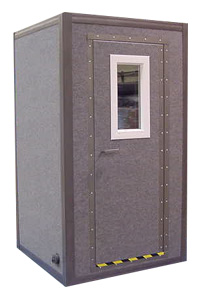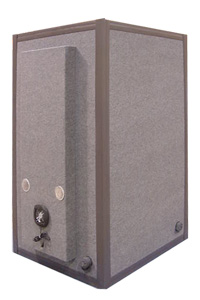 ---
Although voiceover's are my livelihood, I never imagined putting one in my
house (studio). After doing the research I found out how expensive and
costly it could be. I got on the internet and found you guys and man what
a blessing. The entire experience was smooth and your suggestions
were right on. I saved myself a lot of headaches, and yes money.
Thank you, thank you, thank you. My booth is the rave of my piers and
I don't have to drive as much (I live in Southern California).
Oh Yeah, one more thing. My booth arrived on a Thursday and I was
recording on Friday.
Best Regards,

Jesse Corti
La Canada, CA
---
I am very happy with the booth. The service was great!
You go above and beyond for your customers.
Slim JG
Recording Artist
Miami, Florida
www.slimjg.com
---
We couldn't be more pleased with the booth. We were amazed at how solid the booth is considering how easy it was to put together. Every piece fit flawlessly and it's been in use since the day we set it up.
Thanks,
Michael Tuite
University of Virgina
---
I've got a full blown Pro Tools system and lots of gear set up in my
apartment and my iso booth is piled full of speakers for various amps
including a half stack connected to a 50 watt Marshall.
The booth works well enough that I can wind up the Marshall to
get that signature roar! I also use it to record vocals. I've completed
several projects now - both my own and projects for friends.
We all dig it. It's also a great conversation piece☺
Steve Gray
Woodside, California
---
Well....WE LOVE IT!

Here's the report:

The thing arrived in fine shape. due to the fact that even the BUMS in NYC
are unionized, we had to uncrate it IN the truck outside the loading dock of
our building! No matter, we got it all in, THEN the fun began!

Partially cause we're idiots, and partially cause we were putting this in a
VERY tight space, the construction was not so smooth, but it IS mostly
our fault. Anyway, after getting an ex-football playing intern from one
of our clients to come up and help the two aging rockers (me + my bro),
we got it done. I was very impressed by the ease that things had
connecting once we got those corner braces in the right position.

The best thing is that I'm very happy we went with you guys.
We'd seen both your competitor's booths in different NYC
situations and were a bit unimpressed as to the amount of leakage
we heard. While none of these style booths are completely silent,
yours by far is the quietest! We figure this is due to the superior DOOR!

First thing we did with it was to record the vocals for the theme
of the new animated series coming in April on Comedy Central called
"SHORTIES". We're also doing a LOT of acoustic guitar recording in there
with a two mic setup. Sounds great!
The 6'x4' booth is also big enough to keep a 'half-stack' amp setup
in there and STILL be able to sit a guy down to record acoustic guitar
or winds, etc...

We started out doing most of our music "in the box", using samplers
and PODS. Having this booth means no more compromises!

Now then....the ONLY teensy gripe we have, and it aint a big one nor
unexpected, is the noise level of the cooling fan. While not horrendous,
it is a loud enough low hum to be too loud for any quiet recording
situations (vocals, acoustic guitar). I've heard and read similar gripes
with every other standard fan setup in these style booths so I was
kinda prepared. Having said that, the fan REALLY does move some
air in there!

That out of the way, we really LOVE the booth and feel secure we
went with the best company to build it! AND WE CAN TAKE IT WITH US!

Thanx again!

C.P.Roth
Adam Roth
Roth Brothers Music Publishing, LLC
dutchlow@nyc.rr.com
---
The custom sound isolation booth works great. Everyone is very happy with the results.
I don't have much of a quote, but I will say that I would definitely use and recommend
your services again on any future projects.
Wayne T. Hoffman
Ethicon End-Surgery
Cincinnati, OH
---
The booth is just amazing! I know that sounds cheesy but that's the way I feel.
It isolates a lot of sound. Now all of my recordings are a lot cleaner.
Theo Chou
Mint Sound Audio
San Mario, CA
---
The booth works GREAT! and was easy to put together.
I use it for drums in an apartment building.
The booth cuts the noise down considerable, by more than half.
Not even the recording studio down stairs gets that good of results.
Gretchen gave me honest answers about the booths abilities, unlike other
companies I talked to, who told me what I wanted to hear just to make a sale.
Peter Savad
Brooklyn, NY
---
Hello Liz,
Thank you for all of your help and yes the booth is working great!
I am very satisfied with the way everything turned out.
The booth assembly was very simple and I am very happy
that I did business with you.
Thank you so much!
Sincerely,
Anton
Singnal Hill, CA
---
I was very pleased with booth. It boosted our sound quality 100%.
I was very excited about the booth because it helped our sound
quality so much.
Mike Smith - CEO
InOvation Entertainment
Chattanooga, Tennessee
---
Thank you so much for the booth it is working great!
As you know, I live in New York and the noise is terrible.
Now with my new booth, I can finally do my meditation in peace and quite.
Thanks!
Dede Storms
New York, NY
---
I received my booth and I am very happy with it. If I need any more booths,
you will be the first ones on my list to call. Customer service was great!
Don Murphy
Fort Gratiot, MI
---
Just want to let you know that I have been delighted with your excellent
customer service and attention. Not only my order was delivered sooner than
expected, but also arranged so I could receive it on a convenient day (key
for those with 9-to-5 s). I received follow-up calls and treated with
courtesy and respect. To Karen and Gretchen, special thanks.

Marina Myles
LEX PRODUCTIONS, NY
---
The booth is great! we love it! the sound booth increased availability with our
students to create Soundridge mulit-media projects
Kansas State University
Computing & Network Services
Manhattan, KS.
---
Just a quick note to thank you (and your crew) for the great booth.
I received it a few weeks ago, way ahead of schedule. Everything went
together very nicely and it does exactly what I need it to do.
Thanks again for the great booth. Well worth the money!
Jeff Lyons
Lyons Den Design
www.lyonsdendesign.com
---
The booth works Great! I am very satisfied with the booth and the service!
It was exactly what I expected it to be when it arrived. I am a very satisfied
customer! I would absolutely order from you guys again!
Mike Lucas
Pixelbox Visual Design
Elm Grove, WI.
---
I am very very happy with my 8' x 14' booth and with the service provided.
Fast delivery and NO hassle! Great booth for everybody! Between Payment
and installation it took about 3 weeks, Un-believable! I would order from you
again if I need anything.
Angel Zanbrano
Eartelligence Group Broadcasting Studios
Pembrooke Pine, Florida
---
Our booth looks great, works well, and was easy to put together!
Thanks,
Rich Machle
LZSI Multi Media
Aurora, CO
---
I love my booth, it is works great!
Gilbert Thomas
Albuquerque, NM
---
I loved the booth 4'x4' Premium booth and it was very easy to put together.
We used the booth at the Wescon 2003 trade show in San Francisco, Cal.
We asked to have the booth delivered on a specific date, and it was.
What great customer service!
Tom Shain
Floyd Bell Inc.
Columbus, Ohio
---
I am very happy with the booth. The service was great!
You go above and beyond for your customers.
Slim JG
Recording Artist
Miami, Florida
www.slimjg.com
---
Amazingly convenient to have a booth in my facility.
It's great to pen the door have them step in and start recording.

J-Design
Jeff Deponte
Kaneohe, Hawaii
---
Having the booth makes the audio crisper and cleaner than we
have ever worked with before. Puts out great audio!
Dave Callender
Cox Media
Springdale, AR.
---
I'm 100% happy with the booth. It is more than I expected!
The booth adds professionalism to my studio.
Justin Graham
Track House
Central Falls, RI.
---
I love my sound booth. I find it to be one of the most important pieces of my home studio.
Without my sound booth, i would not be able to record crisp quality vocals as I have been
For the past several months. This has been one of the most important purchases of my
musical career and has been essential in not only my vocal recording, but in also the peace
desired by my family and neighbors.
I am deeply grateful to you and your company for the prompt shipment, the easy assembly,
and most of all, wonderful service.
Raquel J.
Pine Brook, NJ
---
Yeah, I love it! Works Great. This thing is so quiet I take naps in it at lunch!!
Craig Welzbacher
Culver, CA.
www.otxresearch.com
---
Hey Liz,
Still working on the documentary off and on. Got into commercial work, doing TV spots for
Pepsi and Clear Channel radio. Using the booth of course. My brother who's worked for
*a local Top Hits Radio Station* forever (he is the program director) thinks your iso booth
has a better sound environment than the million dollar 'set up' at *the local Top Hits Radio Station*.
Paul Fraserbr
Seattle, WA.
*name of radio station bleeped out for privacy purposes*
---
The booth is working great. I purchased the booth because I needed a way to ensure an
acoustic continuity to all of the vocals that I record in my sound studio and the booth has
provided that continuity. It has ensured that the vocals I record are picked up and not all
of the outside noise that is part of the sound studio's environment. Thanks for a great product!
Sincerely in Christ,
Tom Elliott
Fort Smith, AR.
www.fathert.com
---
It's my second home. I don't have to drive to it, pay tolls and find parking. But, it's HUGE and was affordable."
Burt West
Voiceover Artist
San Francisco, CA.